THE WINNERS OF THE 2018 CARPET DESIGN AWARDS AT DOMOTEX
HANNOVER, Germany — The world's finest designer carpets and rugs have been awarded prizes at the 2018 Carpet Design Awards, at Domotex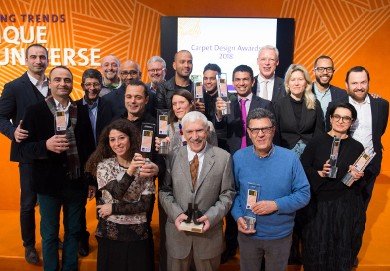 in Hannover. The award ceremony took place Jan. 13, with winners selected for outstanding products in eight categories.
A total of 24 finalists, three from each category, were chosen from a total of 265 products submitted from 16 countries. The 2018 ceremony marks the thirteenth time this prestigious international award for modern handmade carpets was presented at DOMOTEX.
A jury of professionals, chaired by Michael Mandapati, carpet expert and founder of Warp & Weft, New York, selected the eight winning entries on the basis of the design concept and design properties such as color, material, structure and quality, as well as product sustainability and branding.
In addition, the annual German flooring fair also announced a people's choice award, the Best Liked by Domotex visitors award, which was recently announced as well.A full house was in attendance at the 13th annual Carpet Design Awards at DOMOTEX awaiting the announcement of the eight winners.
This year's Carpet Design Awards clearly reflect the DOMOTEX keynote theme UNIQUE YOUNIVERSE. DOMOTEX has always provided a platform for trends and for 2018, the fair stepped up its game by highlighting a major trend — the customization of products and services to accommodate the needs and lifestyle of customers — with displays emphasizing the effects of this trend on the floor coverings industry.
Individual and original designs — created with irregularly textured knotting, variations in nap and pile, the experimental and random use of color and pattern — characterize the trend towards design customization and the competition itself.
CARPET DESIGN AWARDS 2018 WINNERS
Category 1: Best Studio Artist Design
Golden Fade, Salem van der Swaagh
Salem van der Swaagh receives the Carpet Design Award for Best Studio Artist Design from Dr. Andreas Gruchow, Member of the Management Board, Deutsche Messe AG, Hannover. Below, the winning carpet, called Golden Fade on view in Hall 9 at the fair.
The jury was impressed by how Salem van der Swaagh used textile waste to create interesting textures in different weaving techniques in the plush Golden Fade design. The area rug epitomizes the new global comfort trend in textiles for both apparel and home.
Category 2: Best Modern Design Superior
Chaos, Lila ValadanDesigner Lila Valadan is flanked by Lucy Upward of Cover magazine and Dr. Andreas Gruchow of Deutsche Messe, as she receives the Carpet Design Award 2018 for her Chaos area rug.
Designer Lila Valadan takes the theme Unique Youniverse to the max with Chaos, winner of the award for Best Modern Design Superior at the 2018 Domotex fair. The winning rug was felt to have a pattern that reads like a narrative, and Valadan continued the story telling with her stand in Hall 9, which was designed to replicate a Persian garden, replete with its own reflection pool.
Category 3: Best Modern Design Deluxe
Galmous Atlas Mountain, Soufiane Zarib
The Zarib brothers of Morocco-based Soufiane Zarib are presented the 2018 Best Modern Design Deluxe award for their Galmous Atlas Mountain Rug by Dr. Andreas Gruchow at Domotex.
Noted for their flamboyant use of color to update traditional Moroccan designs, Soufiane Zarib wins the award for Best Modern Deluxe Design with a new design that impressed the Carpet Design Awards jury which called it "a rug with soul that brings to the surface the best qualities of carpet weaving."
Category 4: Best Transitional Design
Blue Star, Art Resources
Max Moussavi of Art Resources accepts the Carpet Design Award for Best Traditional Design for Blue Star from the company's wool and silk Ottoman collection. Presenters are Ben Evans of Cover and Hali magazines and Dr. Dr. Andreas Gruchow.
Art Resources' handmade masterpiece Blue Star reflects increasing desire for handmade rugs that project an artistic, meaningful design, in this case an elegant geometric six-point polygon star inspired by the golden age of Islamic art. In the words of the jury, "to take a traditional pattern and turn it into a contemporary look solely through the use of color is a tremendous achievement."
Category 5: Best Flatweave Design
Vague Harmony, Lila Valadan
Michael Mandapati head of the Carpet Design Awards jury and Dr. Andreas Gruchow of the Board of Deutsche Messe, present Lila Valadan the top honor for Best Flatweave Design for her intriguing rug, Vague Harmony.
With stiff competition in the flatweave category, Lila Valadan takes home a second Carpet Design Award in the 2018 competition for the tonal midnight blue Vague Harmony design. According to the jury, "the winner is a stunning rug that provoked our experienced panel to stop and ask questions about how it is made."
Category 6: Best Collection

Chand LC Collection, Choudhary ExportsJury chairman Michael Mandapati, Ayush Choudhary of Choudhary Exports, winner of the 2018 Carpet Design Award for Best Collection, and Dr. Andreas Gruchow at the awards ceremony at Domotex on Jan. 13.
Choudhary Exports earned top prize in its Carpet Design Awards category, in the jury's opinion, because the Chand LC collection is "an original and well-made collection where each rug references another while remaining unique." The line is designed by architect Ashiesh Shah, and is inspired by mid-century iconic buildings by Le Corbusier in Chadigarh, India.
The Carpet Design Awards have been adapted with two new categories in 2018, namely "Best Interior" (high-end customized interior design projects) and "Best Communication" (successful marketing or branding campaigns), adding a new edge and topicality to the awards.
Category 7: Best Interior
Mediterranean Capo Boi, interior designed by Mariantonia UrruPaulina Herrera Letelier, designer, and Giuseppe Demelas, managing director of Sardina-based Mariantonia Urru, accept the award from Dr. Andreas Gruchow for rugs created for resort hotel Mediterranean Capo Boi.
Innovative weaving techniques based on traditional craftsmanship are the hallmarks of Mariantonia Urru, an award winning workshop in Samugheo specializing in textiles for interiors. Their custom creations for the Sardinian resortMediterranean Capo Boi ranged from rugs for a wall mural, and wrapping the façade of reception stations with carpets as well as accent pillows. The CDA jury said the winning company elevated weaving to a place where "textile becomes architecture."
Category 8: Best Communication
Shifting Perception Advertising Campaign, Edelgrund
Executives from Edelgrund accept the Best Communication award for the company's innovative ads from Dr. Andreas Gruchow.The jury chose the Edelgrund Alasht collection ad campaign because it "is the sort of campaign that makes you stop and look again – a true mark of success when it comes to getting the message of your brand across."
All 24 products that reached the final round of the competition were on show throughout the trade show in the special Framing Trends display in Hall 9, where the focus was on innovative design and interior design trends centering on the keynote theme. Tradeshow visitors were able to have their say and vote for their favorite design for the public's choice award presented at the end of DOMOTEX when votes are tallied.
The Carpet Design Awards are staged in cooperation with the magazines HALI and COVER.Michael Mandapati of Warp & Weft in New York City addressed the audience at the 2018 Carpet Design Awards ceremony. Mandapati was chairman of the jury that selected the winners from 24 finalists, all on display in Hall 9 at Domotex 2018.
Best Liked Award
The team from Morocco's Bazaar du Sud accepts the people's choice award for best-liked rug at their Domotex stand. Below, Zanafi, a finalist in the in the flatweave category at CDA.The winner of the Best Liked by Domotex visitors award was the Zanafi flatweave rug by Bazar du Sud, a finalist in its category at the 2018 Carpet Design Awards.  The Marrakesh-based company, which works closely with 200 rural artisan weaver in Morocco, specializes in tribal rugs which are sold worldwide