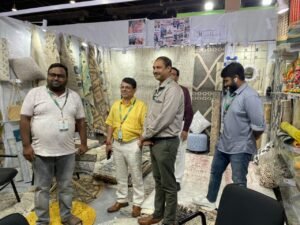 Greater Noida, 15th July 2022:HGH India concluded its 11th edition at India Expo Centre, Greater Noida, with an all-time high business reported by over 70% of the exhibitors. Number of trade buyers across all four categories i.e. home textiles, home décor, houseware & gifts too exceeded all previous editions, making a total of 37,260 visitors to HGH India
2022. Coming for sourcing from over 560 cities and towns, they clearly established the growing demand for high quality and branded home products even in the tier 2 and tier 3 cities and towns of India. Most of the exhibitors reported a 25-30% growt
h in the business as compared to previous editions which is a clear sign of markets becoming better. The growing demand for HOME products shows the pandemic effects are wearing off at the retail level.
HGH India showcased India's rich heritage products under the brand Indian Heritage. Gracing the show with his presence, Shri Shantmanu (Development Commissioner, Handicrafts, Ministry of Apparel, Government of India) said, "This year's show was much bigger and wider than last year's as 80 percent of the exhibitors were repeat exhibitors which shows that they got good support and business opportunities through HGH India Trade Show. I have seen about 100 regional and traditional exhibitors amongst 400 exhibitors who add to the grandeur of HGH India. Start-up Entrepreneurs will be crucial for the growth of this show and we have seen a lot of them this year along with women entrepreneurs."There are several international brands which have been exhibiting at HGH India for years, like Forest (A brand based in Amsterdam, World No. 1 in Drapery systems) Toso (a Japanese brand for window treatments), Pashapachi (second largest producer of glass and wine glasses in the World), Nachtmann (World's finest crystal glass brand from Germany) to name a few, feel that India is their top priority market which has come of age and now much ahead from China.
In the emerging circular economy of the future nothing is treated as waste. What is left over from one process becomes input to another, so keeping it circulating. Sustainability, greenery and eco-friendly products were a big theme at HGH this year. Their increasing demand in the changing times and the variety, designs, colors etc. present in these products at HGH is attracting them. Products made of wood, fibre, copper etc. including bags, bags, baskets, dustbins made of cloth and jute are well appreciated by the consumer of today.
Now a bi-annual trade show, HGH India will return to Mumbai with its 12th edition at Bombay exhibition centre from 13th to 16th December 2022 and will embody Mumbai's dynamic spirit and business-driven energy with a focu
s on Spring/Summer 2023 retail season.
Managing Director, HGH India, Mr. Arun  Roongta said – "We have seen rapid growth in the number of exhibitors, retailers and distributors from tier 2 and tier 3 cities and towns. There is a visible spike in the penetration of the market which is getting deeper and wider. In these B towns, consumption of high quality HOME products is going up. Prosperity in the Indian economy with a growth rate of 7-8% seems to be real and widely spread & is no longer restricted to the urban markets and the metro cities alone. Number of activities at HGH India are a barometer of this change in the profile of the market for HOME products."