Digital transformation of exporters in Bhadohi- Sourcewiz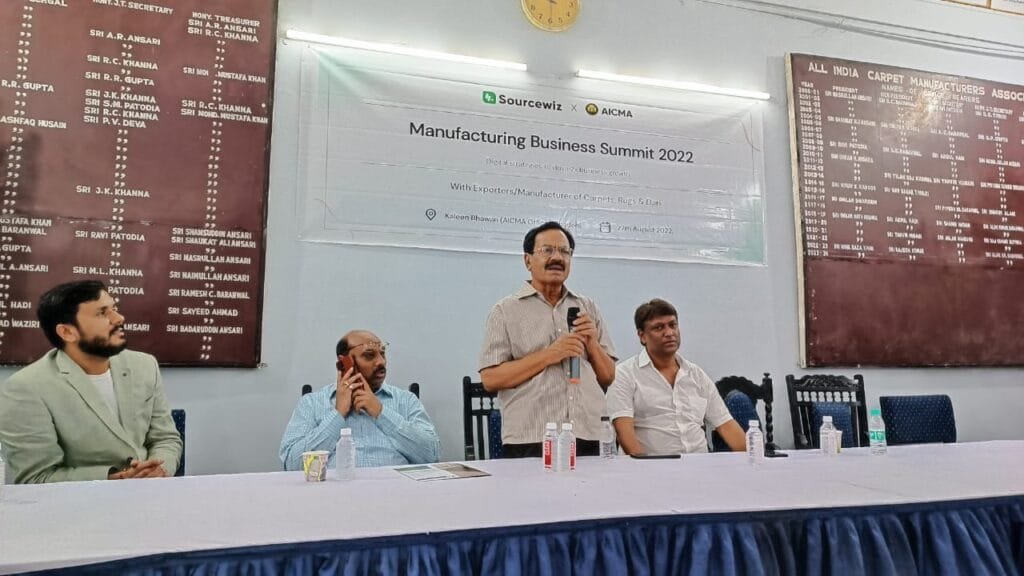 Sourcewiz partners with AICMA – Bhadhoi to help their member exporters grow
Bhadohi, August 2022: Bengaluru based startup, Sourcewiz today announced a collaboration with All India Carpet Manufacturers Association for the digital transformation of exporters in Bhadohi and help them get additional revenue from international markets.In an event organized with exporters at Acma Auditorium, SourceWiz announced this
Sourcewiz The startup had raised $6M from major investors like Matrix Partners, Alpha Wave Global and Blume ventures and angel investors such as Director of largest US based home e-retailer Wayfair. Sourcewiz has already digitised 800+ factories across Panipat, Delhi, Jaipur, Jodhpur, Bhadohi and is also helping them to export their products to UAE, Saudi and is planning to expand their offerings to cover USA by the end of this year.
The partnership will help Bhadohi exporters to transform their processes by managing products and creating virtual storefronts on Sourcewiz platform. The platform uses an AI-based recommendation engine and smart filters that enable exporters to create curated and targeted product catalogues for buyers across the globe.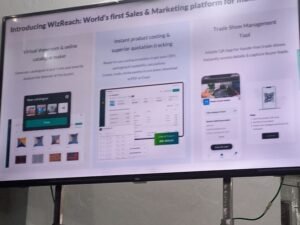 Commenting on the strategic partnership, Arun Yadav, Head Sales at Sourcewiz said, "We are very excited to partner with AICMA and extend services to their members. In the past few months, we have partnered with over 800+ exporters across 3 countries, helped them grow their business by >20% and improved their sales efficiency by 50%. We are creating an ecosystem of services for Indian exporters that helps them increase their sales and factory efficiency, grow their buyer base as well as streamline their raw material sourcing. Moreover, we are now helping some of our exporters find new buyers in the UAE and GCC region through our upcoming Abu Dhabi office.
We have only achieved 1% of our goal so far but the AICMA partnership helps us move close to our mission of empowering Indian exporters "
He further added "We would like to thank the forward-thinking leadership of AICMA, some of who are already our customers for taking the initiative and aiding growth of their members."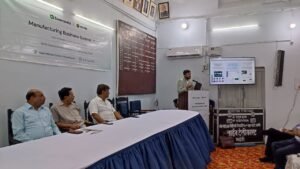 Speaking about the partnership, AICMA president Sh. Mohd. Raza Khan said, "We are happy to work with Sourcewiz in our endeavour to transform carpet exports from Bhadohi. This collaboration will address the strong emerging demand of exporters wherein they will get all industry-specific and customized features and also could easily manage functionality timely and support systems that are critical to their businesses. We are very much sure that this partnership will definitely benefit our members and will help them expand their presence to other parts of the world."
Through Sourcewiz, exporters can create a password-protected virtual store that allows them to carry all their products with them to tradeshows or to buyer meetings. Using the software, exporters can create quotes and catalogues in <20 mins, a process that sometimes takes days. Using the platform, exporters were able to reduce their response time to buyers by more than 90% to <4 hours.
Sourcewiz platform is also powered by a world-class analytics engine which helps exporters track engagement on catalogues. With the platform, exporters can track the effectiveness of their digital campaigns via the catalogues analytics engine. As part of the set of services, Sourcewiz offers a search engine optimized website for exporters to enhance their digital presence.
Sourcewiz's trade fair solution takes away the hassle of collecting visiting cards & writing notes at trade shows. Exporters can generate branded QR codes for their exclusive products, and scan for instant details. The platform helps exporters to capture buyers' contact details and send catalogues with a click.
Moreover, Sourcewiz is coming up with global partnerships and have launched an office in Abu Dhabi to market their customers to retailers across the GCC region. They are also in process of setting up teams in the USA which will help their customer base get orders from new customers.
Many exporters find adopting new technology challenging since they have to train their factory workers on the same system. To help exporters onboard smoothly to the platform, Sourcewiz offers onboarding services that help exporters migrate their operations to the new digital ways without hassle. Sourcewiz has reduced the onboarding time to weeks which is usually 6 to 12 months for other SaaS platforms.
Sourcewiz has central offices in Gurugram and Bengaluru, while the sales team is distributed across all major export hubs of India including Jaipur, Jodhpur, Moradabad, Panipat, Agra, Firozabad, Delhi NCR, Tirupur, Karur, Bhadohi, Mumbai among others. The start-up also has an off-shore office with 15 members in Abu Dhabi (UAE) and is setting up their presence in USA at the moment, with plans to launch there by January.