DOMOTEX asia/CHINAFLOOR .India Pavilion was Inaugurated by Consul General of India, 
Shanghai. DOMOTEX asia/CHINAFLOOR .India Pavilion at the Domotex Asia ChinaFloor was Inaugurated by Shri Anil Kumar Rai, Consul General of India, Shanghai in the presence of Chairman, CEPC, Shri Mahavir Raja Sharma and Shri Sanjay Kumar,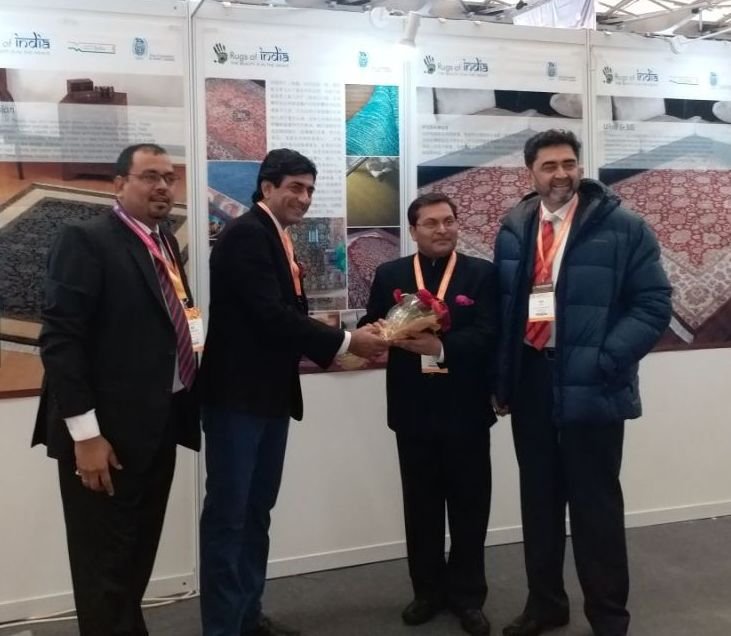 Executive Director, CEPC ,Non Resident Indian and china importer pradeep setty past chairman kuldeep raj vattal and coa sanjay gupta other dignitaries .
Shri Anil Kumar Rai also visited the Indian stalls . There are 50 carpet manufacturers from India who are exhibiting their products at the event There is a great footfall at the Indian Booths as Indian Handmade Carpets have a huge demand in China. The buyers are liking the Indian products very much.– DOMOTEX asia/CHINAFLOOR To commemorate the 20th Anniversary of the event start 20 macrh to 22 march 2018 , show organizers  the 20th Anniversary edition the show has significantly increased exhibition capacity to accommodate over 1,400 companies, the largest floor covering trade show in the Asia Pacific region, and the second largest in the world. Held every March at the Shanghai New International Expo Centre, this event attracts 40,000 visitors from around the world.
This equates to an increase of around 10,000 m² against the last Domotex Asia/Chinafloor. The number of visitors is also expected to rise to roughly 55,000, which is also higher than at the previous event.