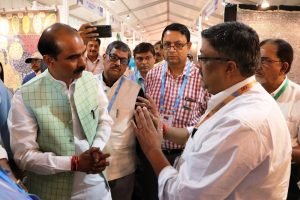 About Rs. 450 Crores Business  & Enquiries Generated from 36th India Carpet Expo 350 overseas carpet buyers from around 38 Countries and 225 Buying Representatives/ Buying Houses  attended India Carpet Expo, 21-24 October, 2018
 Carpet Export Promotion Council organized the 36th India Carpet Expo and 14th in Varanasi in Trade facilitation Center and Craft Museum, Deen Dayal  Hastkala Sankul, Bada Lalpur, Chandmari, Airhe, Varanasi – 221003 (Uttar Pradesh) from 21-24 October, 2018, with an aim to promote the Cultural Heritage and showcase the weaving skills of Indian hand-knotted carpet artisans amongst the overseas hand-knotted carpet buyers.  Expo was inaug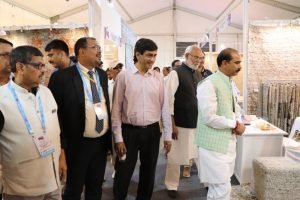 urated on 21st October, 2018 by Shri Narandra Modi, Hon'ble Prime Minister  through Video Conferencing at 6.30 p.m. Amphitheatre near Museum, Trade Facilitation Center and Craft Museum, Bada Lalpur, Varanasi has received overwhelming response from more than 350 overseas buyers from across the globe.
Smt. Smriti Zubin Irani, Hon'ble Minister of Textiles presided over the function as Chief Guest lited the lamps in the gracious presence of  Shri Raghvendra Singh, IAS, Secretary (Textiles), Shri Shantmanu, IAS, Development Commissioner (Handicrafts), Shri Virendra Singh, Hon'ble Member of Parliament from Bhadohi, Shri Ravinder Nath Tripathi, MLA Bhadohi, Senior Officials from the State Government,  Overseas Buyers,  Mr. Mahavir Pratap Sharma, Chairman, CEPC alongwith Shri Siddh Nath Singh, 1st Vice-Chairman & Shri Umer Hameed, 2nd Vice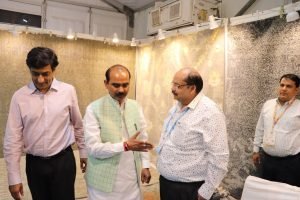 -Chairman and Members of the Committee of Administration were also present on the occasion.
Shri Ajay Tamta, Hon'ble Minister of State for Textiles, Government of India also visited the India Carpet Expo on the third day of the expo and  met the participating exhibitors and overseas buyers and appreciated the new designs and products innovated for the Expo by the Indian Carpet Manufacturers.
Shri Narendra Modi, Hon'ble Prime Minister  in his address expressed  his happiness to mention that we have been able to take one step forward towards achieving the  objective for which the foundation of the Deendayal Sankul was laid 23 months ago in Bada Lalpur Varanasi.  PM Modi in his address also mentioned that Handloom and Handicrafts Sector is intrinsic part of our rich heritage and Varanasi has always played prominent role in show cashing beauty of Indian Handicrafts to the world.
Hon'ble Prime Minister was happy over the growth rate of Indian Handmade Carpet Industry in the last 5 years and hopeful to achieve the goal of  Exports of  Rs. 25000 Crores by the year 2025. Hon'ble Prime Minister also assured full support to the Indian Handmade Carpet Industry to achieve the desired goals and stressed the need of "ZERO DEFECT ZERO EFFECT" and concept of "5 F" i.e. Farm to Fibre, Fibre to Factory, Factory to Fashion, Fashion to Foreign. Hon'ble Prime Minister emphasized on the use of technology in carpet sector and he assured that Govt. is committed towards facilitating exporting community for the best technology so that they can compete with their competitors in the world market.
Smt. Smriti Zubain Irani, Hon'ble Time Minister in her address mentioned many initiatives taken by the Government for the growth of the sector he said that Expo will directly connected weavers and the trade to the world. Smt. Irani expressed happiness over the setting up of Warehouse in China by CEPC for the benefit of Carpet Exporters and her Ministry is ready to provide all necessary support in setting up the similar warehousing facility in US.  While referring to the demands made by the carpet industry for non-entitlement of Buyers from developed countries and relaxation of Income Tax Exemption. She assured that she will recommend and forward the demand of the industry to the concerned department.
Shri Ajay Tamta, Hon'ble Minister of State for Textiles said, "Handmade Carpet Industry holds No. 1 Status in terms of value & quantity in export of handmade carpet. We are very glad that CEPC organizes this Expo twice every year to promote Indian weavers worldwide. Every year Expo generates huge amount of business. We assure our support to the carpet industry for their efforts for the betterment of small Manufacturers and artisans"
  Shri Ajay Tamta, Hon'ble Minister of State for Textiles in his press brief further mentioned that  after Agriculture,  Textile is the 2nd largest employment providing sector in the country. Our weavers are the backbone of the industry.  Uttar Pradesh accounts for approx. 60% of the total exports of Handmade Carpets.
The Chairman of CEPC Mr. Mahavir Pratap Sharma, said "over hundreds of  enquiries and almost Rs. 450.00  Crore business is estimated  from the 4 day Expo which shall be executed in the coming months. This year we are expecting Growth rate of about 10% percent.. This expo will lead to opening up of new market opportunity for the industry and shall help small and Medium Indian carpet exporters in promoting their products to overseas countries.
Eventually, this ongoing process, on a broader scale, is instrumental in projecting" Make in India Brand" in overseas markets. Government has set up a target of US $ 1592 million carpets & floor covering export for the fiscal year 2017- 2018, which he said shall be achieved. He further said India carpet expo is an ideal platform for International Carpet Buyers, Buying houses, buying Agents, Architects and Indian Carpet Manufacturers & Exporters to meet and establish long term business relationship. Buyers from 38 countries participated in the expo.
 The India Carpet Expo showcased  the products of 270 reputed small, medium and large manufacturer exporters from all over country viz U.P., Rajasthan, Haryana, Jammu and Kashmir, Punjab, Madhya Pradesh, Himachal Pradesh, Andhra Pradesh etc.  A record number of  more than 350 overseas carpet buyers visited the expo to generate business for this rural based cottage sector. It is the endeavor of the Council to provide exclusive business environment to the both carpet importers as well as manufacturer-exporters, which ultimately will benefit about  2 million weavers and artisans employed in this highly labour intensive rural based MSME cottage industry.
            The Organizer of the fair i.e. CEPC mentioned that in the current recessionary trend the presence of 350 Overseas Buyers from all over the world in India Carpet Expo establish the status of India Carpet Expo and demand of Indian Products in International Market.
Shri Mahavir Pratap Sharma, Chairman, CEPC expressed that this event will be beneficial to the Medium and  small exporters who can't afford to display their products in overseas Exhibitions on the one hand and on the other hand show the capability of India in producing and supplying quality products in time.
Chairman, Vice-Chairmen and other Members of the COA, CEPC expressed happiness and congratulated Shri Sanjay Kumar,  Executive Director-cum-Secretary and all Staff Members of the Council for their strenuous  and untiring efforts  to make the fair a Grand Success.
Council announced the date of next India Carpet Expo from  10-13  March,  2019  in NSIC Exhibition Complex, Okhla Industrial Area,  New Delhi.