Union Minister of Commerce and Industry Chairs Meeting for Easier Availability of Export Credit at Competetive Rates in Foreign Currency
new delhi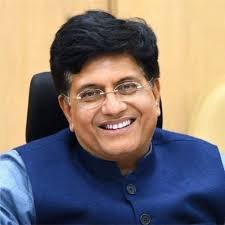 Commerce and  Industry Minister PiyushGoyal held a detailed meeting with Chairman and Managing Director SBI, MD Export Credit Guarantee Corporation, MD EXIM bank and other public sector, private and foreign banks along with FIEO and other export promotion councils and industry bodies for exploring ways and means for easier availability of credit to exporters at competitive rates. Ministers of State for Commerce and Industry,HardeepPuriand  SomParkash also participated in the deliberations.
Commerce and Industry Minister emphasized that India needs to aspire for a export target of USD one trillion each for goods and services and for that it is the joint responsibility of government, financial institutions and industry to ensure that export credit at competitive rates is available to business. We need to achieve a much higher level of export credit from the present level of 9.5 lakh crore. There is a need for a quantum jump if we want to achieve our export targets. In this regard, he asked RBI, ECGC, EXIM and SBI to explore regulatory reforms, innovative financial instruments and rationalizing credit disbursal procedures.
Commerce and Industry Minister stated that exporters should be able to take more and more export credit in foreign currency. Its share in total export credit should increase from the present level of about 50%. RBI was also asked to explore the possibility of use of its foreign exchange reserves for providing a line of credit for swap to good banks for this purpose resulting in cheaper foreign currency loan. ECGC was asked to enable a credit guarantee cover for foreign currency lending to MSMEs. EXIM bank may provide refinance in foreign currency to the commercial banks to support exports credit particularly to MSMEs. ECGC should also extend export factoring for MSMEs.
Federation of Indian Export Organisations (FIEO) and other export promotion councils and industry bodies raised various issues including bank coverage charges, issues in exports to Iran, processing fee issues, collateral requirements and issues in loan disbursals. Many of the issues were immediately resolved with the intervention of the Commerce and Industry Minister. He requested the financial institutions and the departments concerned to take note of the remaining issues and come up with solutions in a time bound manner. FIEO was asked to submit a report on simplification of export credit procedures by 30th June, 2019.
Commerce and Industry Minister also decided to have a follow up meeting on June 30, 2019 in Mumbai to review the progress on the action items identified in the meeting.
The meeting was attended by the representatives of the Department of Economic Affairs, Department of Financial Services, Commerce Secretary, AnupWadhawan, Secretary MSME, Dr. Arun Kumar Panda, Director General of Foreign Trade, AlokVardhanChaturvedi , officials from RBI, State Bank of India, Canara Bank, Punjab National Bank, HDFC Bank, Kotak Mahindra Bank, Axis Bank, Barclays Bank, Citi India, Bank of America, EXIM Bank, ECGC, Indian Banks' Association, FIEO, EEPC, GJEPC, LaghuUdyogBharati, FICCI and CII.