India Carpet Expo – Progressing Carpet Export
India carpet expo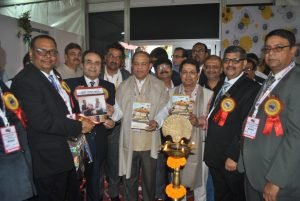 38th Edition of India Carpet Expo an exclusive trade fair for Handmade carpets and other floor-coverings, Organized by Carpet Export Promotion Council (15th in Varanasi) was inaugurated today with lamp lighting by Shri Ravi Capoor, IAS, Secretary (Textiles), Ministry of Textiles, Govt. of India in the premises of Sampurnanand Sanskrit University, Varanasi in the gracious presence of Shri Vijoy Kumar Singh, Additional Secretary and Financial Advisor, Department of Commerce, Shri Shantmanu, IAS, Development Commissioner (Handicrafts) , Shri Sanjay Rastogi, Development Commissioner (Handlooms), Shri Sohan Kumar Jha, Sr. Director, O/o. the DC(Handicrafts), Ministry of Textiles, Govt. of India. Shri Siddh Nath Singh, Chairman, CEPC, Shri Umer Hameed, 2nd Vice-Chairman, CEPC alongwith Members of the Committee of Administration, prominent Members Exporters and Guests were also present.
The 4 day Expo will remain open for business till 14th October, 2019.
The Expo is organized under the aegis of Govt. of India with an aim to promote the Cultural Heritage and weaving skills of Indian hand-made Carpets and other floor coverings amongst the visiting overseas carpet buyers.
Shri Ravi Capoor in his press briefing mentioned that, "We are very glad that CEPC organizes this Expo twice every year to promote Indian weavers worldwide. Every year Expo generates huge amount of business. We have everything handmade and hand weaved here, which is the major attraction to the foreign buyers." Shri Capoor further assured that Ministry of Textiles will provide all possible support for branding and promotion of Handmade Carpet Industry.
Shri Shantmanu mentioned that his office is providing dedicated for promotion of Handicraft sector and launched various schemes for promotion, marketing and training of the weavers and small entrepreneurs.
Shri Siddh Nath Singh, Chairman, CEPC said "India carpet expo is an ideal platform for International Carpet Buyers, Buying houses, buying Agents, Architects and Indian Carpet Manufacturers & Exporters to meet and establish long term business relationship. This exhibition is a crucial step towards taking Indian exports of Handmade carpet to much greater and newer heights. Shri Singh further added that there are tremendous business opportunities for participating manufacturers and exporters as various prominent buyers of Handmade Carpets from all over the world will be attending the show and orders worth over thousand crores are expected to be executed in near future. New fall-winter colors and designs are being showcased at the Carpet Expo.
India Carpet Expo is one of the largest Handmade Carpet Fairs in Asia with a unique platform for the buyers to source the best handmade carpets, Rugs and other floor coverings under one roof. With the participation of 230 exhibitors, it has become a popular destination worldwide on Handmade Carpets.
On the first day a record number of 152 overseas carpet buyers from around 40 countries mainly Australia, Belgium, Brazil, Canada, China, Chile, Denmark, Egypt, France, Germany, Iran, Israel, Italy, Japan, Lebanon, Mexico, Russia, Singapore, South Africa, Turkey, U.K., USA etc. and 133 Buying Representatives visited the Expo to generate business for this rural based cottage sector.
It is the endeavor of the Council to provide exclusive business environment to the both carpet importers as well as manufacturer-exporters, which ultimately will benefit about 2 million weavers and artisans employed in this highly labour intensive rural based MSME cottage industry.
Mr. Siddh Nath Singh, Chairman, CEPC further informed the Press that also instituting Export Excellence Award for the year 2018-19 in Hotel Taj Ganges, Varanasi under 5 categories and also starting "Kaleen Ratna" – Lifetime Achievement Award to prominent personalities for their contribution to the Indian Handmade Carpet Industry.
Shri Sanjay Kumar, Executive Director is happy and expressed hope that the ultimate benefit will go to the weavers and their families.