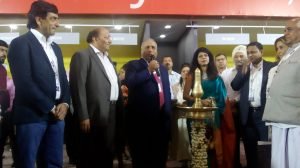 HGH India 2018 closes with. 34,960 trade visitors,Over 600 brands from 30 countries 
Mumbai, July 19, 2017:  HGH India 2018, 7th annual edition of the trade show for Home Textiles, Home Décor, Houseware, and Gifts received an overwhelming response from the trade visitors and the industry. 34,960 trade visitors, primarily retailers, distributors and institutional buyers from 480 cities and towns across India attended this trade show to find innovations, source home products for their business and discover upcoming home fashion trends for 2018-19. This latest edition of HGH India witnessed 14% rise in the number of visitors over last year. Over 600 brands and manufacturers from 30 countries unveiled their innovations and new collections at HGH India 201 8, either directly or through their Indian partners.
HGH India 2018 reflected the rising interest in integrated approach to Home Textile, Home Decor and Houseware as they continued to move towards a single lifestyle category called 'Home'. Buyers and visitors showed interest in new and trendy products along with offerings from international players. The organizers' effort to launch the new concept of 'Indian Heritage' products with an appeal for Handicrafts, Jute, Coir and Khadi to modern consumers attracted keen attention. Indian Heritage was supported by various Government organizations, emphasizing on the importance of reconnecting with the roots. The quality of presentations and products evolved testifying the upgrade of consumer needs and expectations.
Dr. Kavita Gupta, I.A.S, Textile Commissioner, Government of India, inaugurated the event and commented saying, "HGH India has grown almost 40% over last year which reflects the importance of this trade show as well as the Indian market. We as a country are in the position to buy and promote items in the home textiles and related industry especially now as our tastes are evolving and becoming more trendy and fashionable. The Trend Pavilion at HGH India is particularly important as it sets the theme for the home textile and décor trends for the Indian market."
Mr. Keval Mehta, General Secretary- Atco (All India Wallpaper Coverings Association) said, "We are very happy with the outcome of HGH India, especially this year.  I feel that both our organizations' relationship will only continue to evolve further in the years ahead.  We have over thirty brands exhibiting this year which is a big step forward for us, and I foresee this only growing further next year as well. I must also mention that I am very impressed with the Trends Pavilion this year. In fact, we have incorporated some of these trends into our products that are on display. I look forward to HGH India 2019."
Mr. Rajesh Mahajan, Chairman- Maspar said, "We have been with HGH India since its first year, and are thus overjoyed to be part of the show again. The response to our offerings has been great on all three days. Each year, we look forward to meet retailers and consumers from different regions, cities and towns of India every year and in my opinion, this is the perfect platform to achieve the same. I believe that this industry is still evolving and therefore, I am thankful to HGH India for consistently providing us the opportunity to showcase our new concepts and merchandise to strengthen our rapport with visitors on all three days of the trade show."
HGH India 2018 forecasted the latest trends in home fashion and lifestyle. Conceptualized and implemented by the internationally renowned design studio Sahm + Permantier, the trends, under the title '#Transition', were showcased at the Trend Pavilion to bring fashion and style directions to the Indian home products community. It also focuses on the acceptance of Indian culture from the ethnic past to the modern present by contemporary Indian consumers, which was reflected in the range of new products on offer.
The predicted trends are derived from intense research on colours, materials and patterns as well as on changing consumer values, lifestyle, evolving technology and attitudes. The #Transition trend book helps manufacturers, brands, retailers and professionals in home business to connect their products and innovations to the aspirational Indian consumers who see their home as an expression of their lifestyle and evolving culture. Given the success of last year, this year the Trends Pavilion was set up in a larger format to cater to the rising interest of the exhibitors, product developers, designers, buyers and other trade visitors.
Arun Roongta, Managing Director, HGH India, said, "HGH India continues to develop as a trade show for the Indian Home Products Market but with International standards. It is a great business platform for Indian buyers, retailers, manufacturers and brands to connect and mutually grow their respective business and also the industry in its entirety. With the increasing buying power and refined sensibilities of the Indian market, we hope that the home products industry witnesses' manifold growth and HGH India continue to be an important partner in this journey. I am happy that we could attract not only urban visitors but also visitors from interior cities and towns of India. Home products are a desire and a necessity all over the country."
HGH India 2018 saw some of the biggest brands like Welspun, Bombay Dyeing and Marshal launch their new products which peaked the buyer's interests. HGH India 2018 also saw international participation showcasing products from Turkey, German, Italy, UK, France, Greece, USA, Taiwan, Thailand, Korea, China, Russia, Poland, Japan, Belgium, Bangladesh, Sri Lanka and many others.
The next edition of HGH India is scheduled from 2th to 4th July 2019 at Bombay Exhibition Centre, Mumbai.