Hand-made carpets and rugs: unique, precious and desirable
– On trend: a blend of traditional and contemporary influences
– Artworks for the floor: exclusive designer pieces in Hall 17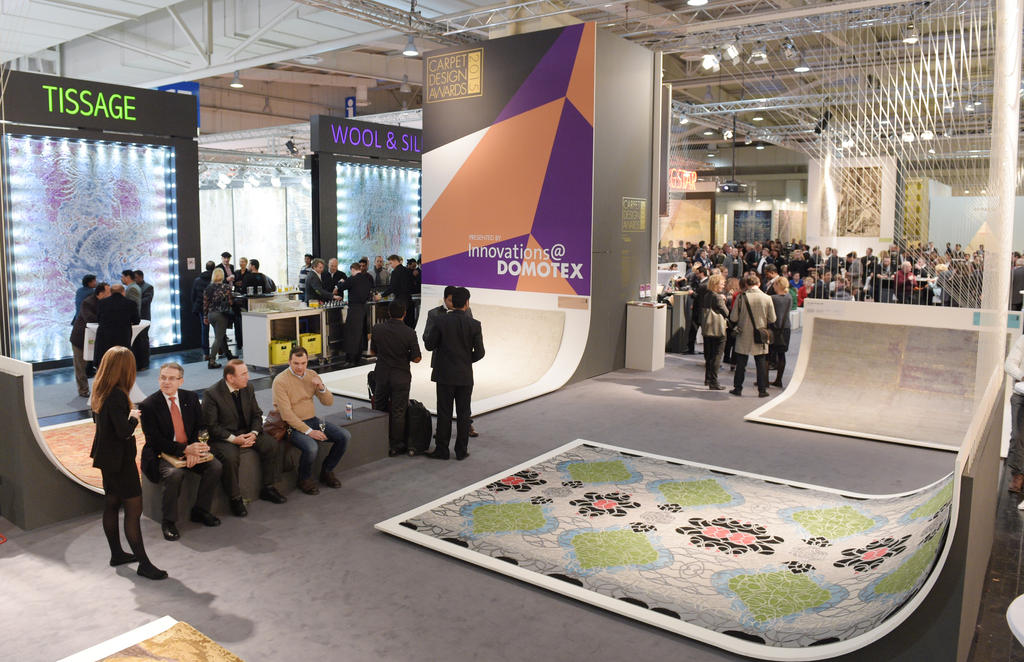 – Traditional knotted carpets from all the world's major producer regions
Hannover. The ancient art of knotting carpets – reinterpreted for the modern world: the blend of traditional and contemporary

influences is once again the dominant trend in carpets for 2016. Whether it be classic Oriental carpets with their traditional patterns, or new, exclusive creations by international designers – DOMOTEX 2016 will showcase all these examples of the carpet-maker's art to perfection. From 16 to 19 January 2016 the world's leading trade fair for carpets and floor coverings will be presenting the world's largest display of hand-made carpets and rugs, along with all the latest trends and innovations.
Hand-made carpets and rugs are today a popular home accessory Customers are looking for original, timeless and sustainable examples. Such masterpieces perfectly complement sophisticated modern or traditional furnishing schemes. Original, contemporary and futuristic designs are much in demand, as are modern interpretations of traditional patterns. Big-name designers of exclusive hand-made carpets and rugs will be presenting their prized pieces in Hall 17, including Ariana Rugs, Ayka Design, CC-Tapis, Floor to Heaven, Jan Kath Design, Knotisse, Makalu, Mischioff, Reuber Henning, Hossein Rezvani, Rug Star, Wool & Silk Rugs, Tufenkian und Zollanvari.
Traditional hand-made carpets are also becoming more popular. An Oriental carpet brings a touch of cosy warmth to stark, minimalist spaces, while its rich patterning fascinates and entrances. Over the centuries certain patterns and colour combinations have won particular favour with carpet makers and buyers, and have thus become classics of their kind. The main concentrations of traditional knotted carpets from all the world's major producer regions can be found in Halls 14 to 16.
But antique carpets and rugs that tell their own story are also very popular. They embody our longing for genuine, traditional values, and single pieces inject an exciting element of contrast into contemporary interiors. Antique carpets have a special aura of their own, which can still be felt a century or more later. Lovers of these carpets and dealers in antiques can look forward to a choice selection of these precious and rare artefacts in Hall 14.
Prestigious awards for the world's best designer carpets
For the eleventh successive year DOMOTEX is hosting the Carpet Design Awards, now part of Innovations@DOMOTEX. Prizes are awarded for contemporary hand-made carpets and rugs of outstanding quality and unique design. An international jury of specialists from the design and carpet industries will select the best three carpets in each of eight categories. Entries will be judged on design and design concept, materials, execution, texture, structure and quality as well as sustainability and branding. Chairing the jury is the London-based top designer Michael Sodeau from Michael Sodeau Partnership. The 24 carpets that make it to the finals will be on display for the full duration of DOMOTEX in the special Innovations@DOMOTEX Area in Hall 17. The winners in each category will be presented with their awards on the Sunday of DOMOTEX, 17 January 2016.
About DOMOTEX Worldwide:
DOMOTEX asia/CHINAFLOOR: International trade fair for carpets and floor coverings in the Asia-Pacific region, Shanghai, 22–24 March 2016
DOMOTEX Turkey: Leading trade fair for carpets and floor coverings in Turkey, Gaziantep, 23–26 May 2016
Deutsche Messe AG
With revenue of 280 million euros (2014), Deutsche Messe AG ranks among the world's ten largest trade fair companies and operates the world's largest exhibition center. In 2014, Deutsche Messe planned and staged 134 trade fairs and congresses around the world – events which hosted a total of over 41,000 exhibitors and some 3.6 million visitors. The company's event portfolio includes such world-leading trade fairs as CeBIT (IT and telecommunications), HANNOVER MESSE (industrial technology), BIOTECHNICA (biotechnology), CeMAT (intralogistics), didacta (education), DOMOTEX (floor coverings), INTERSCHUTZ (fire prevention and rescue), and LIGNA (wood processing and forestry). With approx. 1,200 employees and a network of 66 representatives, subsidiaries and branch offices, Deutsche Messe is present in more than 100 countries worldwide.