Designed for moisture-prone rooms New laminate floors conquer kitchens and bathrooms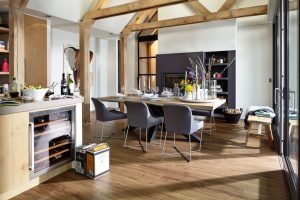 Laminate for a kitchen or bathroom – really? Opinion used to be divided on this, but not any more, because innovative product development has resulted in versatile laminate floors that are suitable for rooms exposed to moisture.
What makes this possible is their special moisture protection features: the necessary protection against swelling is provided by newly-developed high-density HDF core boards with a high level of hardness; impregnation of the top layer and edges of the laminate planks offers much better resistance to splashes, spills and moisture; they also have very good non-slip surface properties; and the innovative click connection system makes installing the floor easier and more straightforward and ensures tightly-sealed joints. Together, these features make laminate a cost-effective and visually attractive flooring option, even in rooms that are prone to moisture.
Bringing a country house feel to bathrooms
There are several aspects in favour of using laminate in kitchens and bathrooms – it is easy to look after, boasts durable surfaces and, above all, offers huge scope for design. What's more, the varied choice of decors and sizes means there is something to suit pretty much everyone's taste. A laminate floor with a modern tile effect is immediately pleasantly surprising as the surface feels warm underfoot. Alongside attractive ceramic, stone and concrete decors, the multitude of realistic wood reproductions are becoming ever more popular. Laminate now makes it possible to bring fashionable wood effects into a bathroom setting.
The installation instructions provided by the laminate manufacturers give important information on how to lay the planks correctly. For example, areas connecting with components such as skirting boards, profiles strips or pipes must be sealed with silicone so that water cannot penetrate underneath the laminate flooring. And where structural components pass up through the floor, a sufficient expansion gap should be left. Simply because of the risk of slipping, it is important in rooms subject to splashes and spills not to leave puddles on the floor for any length of time, but to wipe them up immediately.
Laminate floors made in Europe are manufactured using state-of-the-art production and print technology and are constantly undergoing further development. Each new generation of laminate has extra functionality and valuable additional product features which allow its versatile use in the residential and commercial sectors. An added bonus for customers is that these laminate planks are certified as environmentally-friendly, low-emission products that comply with strict environmental requirements. In terms of quality and innovation, these high-tech products manufactured in Europe continue to set the course for laminate markets around the world.
www.eplf.com