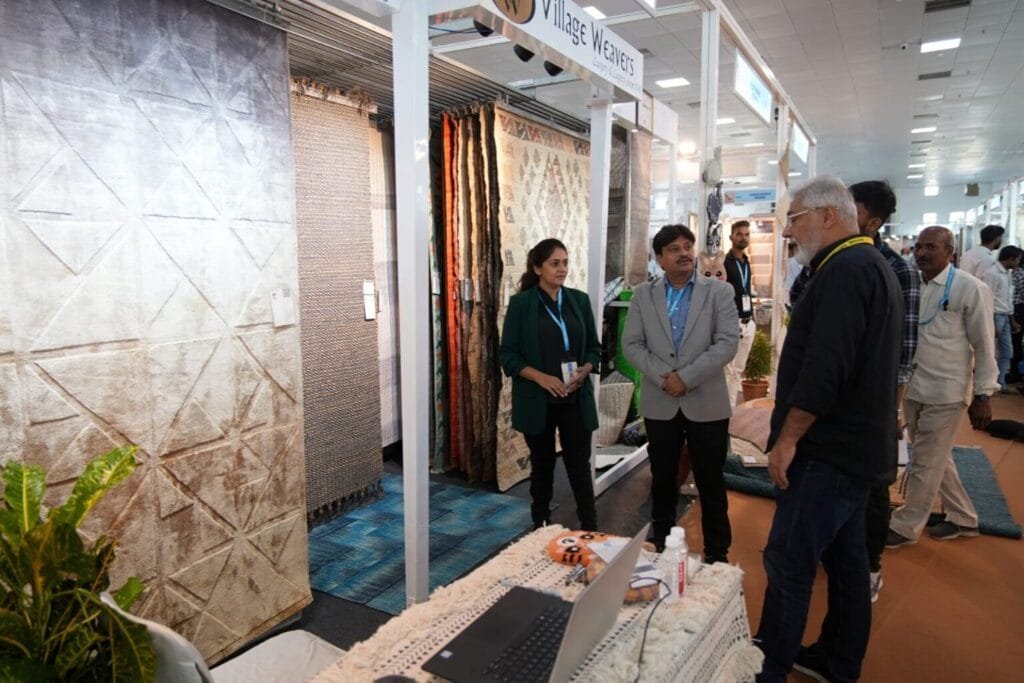 BHADOHI 213 overseas carpet buyers from around 48 Countries and 207 Buying Representatives/ Buying Houses attended India Carpet Expo, 15-18 October, 2022
Carpet Export Promotion Council organized the 43rd India Carpet Expo and 1st in Bhadohi in the Bhadohi Carpet Expo Mart, Bhadohi from 15-18 October, 2022 with an aim to promote the Cultural Heritage and showcase the weaving skills of Indian hand-knotted carpet artisans amongst the overseas hand-knotted carpet buyers.
India Carpet Expo was inaugurated on with lamp lighting by Chief Guest Smt. Anupriya Patel, Hon'ble Minister of State for Commerce & Industry, Government of India and Guest of Honour Shri Amit Mohan Prashad, Additional Chief Secretary MSME, Govt. of U.P. in the premises of Bhadohi Carpet Expo Mart in the gracious presence of Shri Ramesh Chand Bind, MP, Bhadohi, Shri Yogeshwar Ram Mishra, Commissioner, Vindhyachal Mandal, Shri Gaurang Rathi, DM Bhadohi, Shri Vipul Dubey, MLA Gyanpur, Dr. R.K. Patel, MLA Mariyahu, , Shri Umar Hameed, Chairman, CEPC, Shri Mukesh Kumar Gomber, Vice-Chairman, CEPC alongwith Members of the Committee of Administration, Shri Ravinder Nath Tripathi, EX-MLA Bhadohi, Shri Ashok Jaiswal, Chairman, Bhadohi, Shri Raza Khan, President, AICMA, prominent Members Exporters and Guests were also present.
Shri Virendra Singh Mast, MP Ballia, Shri Zahid Beg, MLA Bhaodhi, Shri Gaurang Rathi, DM Bhadohi, Suprintendent of Police Dr. Anil Kumar, Shri Rajesh Bharti, Addl SP , Mrs. Laxmi, Chief Development Officer, Mirzapur also marked their presence in 4 days Expo.
Shri Virendra Singh Mast, MP Ballia, Shri Zahid Beg, MLA Bhaodhi congratulated the organizers and the participants. They expressed hope that this fair will open the new business avenues for the people of Bhadohi and adjoining areas. They said that Bhadohi's first carpet fair is a matter of great pride for the district and the exporters associated with the carpet industry would get a lot of benefits from the India Carpet Expo held in Bhadohi district.
The Chairman of CEPC Shri Umar Hameed, said that participants received sample negotiation orders in the 4 day Expo which will further convert into business of Rs. 450 – 500 Crores within 4 – 6 Months. It was also noticed that many buyers were also interested in procuring the ready stock of the participants. Buyers expressed their satisfaction with the varieties they found in the Expo.
This expo will lead to opening up of new market opportunity for the industry and shall help small and Medium Indian carpet exporters in promoting their products to overseas countries.
Eventually, this ongoing process, on a broader scale, is instrumental in projecting" Make in India Brand" in overseas markets. He further said India carpet expo is an ideal platform for International Carpet Buyers, Buying houses, buying Agents, Architects and Indian Carpet Manufacturers & Exporters to meet and establish long term business relationship. 213 Overseas Buyers form Australia, Bahrain, Belarus, Belgium, Brazil, Canada, Chile, Colombia, Finland, France, Germany, Greece, Hungry, Israel, Italy, Jordan, Japan, Libya, Lithunia, Mauritius, Myanmar, Nepal, Netherlands, Oman, Palestine, Panama, Romania, Russia, Singapore, South Africa, Spain, Sweden, Tiawan, Thailand, Turkey, UAE, USA, Vietnam etc. attended the India Carpet Expo. 207 Representatives of Overseas Buyers, Buying Houses, Designers, Architects etc. also visited the India Carpet Expo.
The Carpet Export Promotion Council showcased the products of 239 reputed small, medium and large manufacturer exporters from all over country viz U.P., Rajasthan, Haryana, Jammu and Kashmir, Punjab, Madhya Pradesh etc. It is the endeavor of the Council to provide exclusive business environment to the both carpet importers as well as manufacturer-exporters, which ultimately will benefit about 2 million weavers and artisans employed in this highly labour intensive rural based MSME cottage industry.
The Organizer of the fair i.e. CEPC mentioned that in the current recessionary trend the presence of 208 Overseas Buyers from all over the world in India Carpet Expo establish the status of India Carpet Expo and demand of Indian Products in International Market.
Shri Umar Hameed mentioned that he and his team is working for the growth of the industry and desire to organize Domotex in India – DOMOTEX INDIA to enable the participation of small Member Exporters who could not afford to participate in Domotex, Hannover (Germany).
Shri Umar Hameed, Chairman, CEPC expressed that this event will be beneficial to the Medium and small exporters who can't afford to display their products in overseas Exhibitions on the one hand and on the other hand show the capability of India in producing and supplying quality products in time. Chairman, Vice-Chairmen and other Members of the COA, CEPC expressed happiness and congratulated Dr. Smita Nagarkoti, Officiating Executive Director-cum-Secretary and all Officers and Staff of the Council for their strenuous and untiring efforts to make the fair a Grand Success.
Council announced the date of next India Carpet Expo from 15-18 March, 2023 in NSIC Exhibition Complex, Okhla Industrial Area, New Delhi.