About Rs. 337.24 Crores Business & Enquiries Generated from 34th India Carpet Expo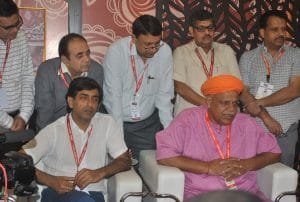 290 Overseas carpet buyers from around 60 Countries and 312 Buying Representatives/ Buying Houses attended India Carpet Expo, 10-13 October, 2017
Carpet Export Promotion Council
organized the
34th India Carpet Expo and 13th in Varanasi
in the Ground of Sampurnanand Sanskrit University Ground at Varanasi from 10-13 October, 2017, with an aim to promote the Cultural Heritage and showcase the weaving skills of Indian hand-knotted carpet artisans amongst the overseas hand-knotted carpet buyers.
India Carpet Expo which was inaugurated on 10th October, 2017 by Hon'ble Minister of State for Textiles Shri Ajay Tamta in the gracious presence of Smt. Sushmita Maurya, MLA, Majhawan, Distt. Mirzapur, Shri Shantmanu, IAS, Development Commissioner (Handicrafts), Ms. Nidhi Mani Tripathi, IAS, PS to Hon'ble Minister of State for Textiles, Media & Participants. Mr. Mahavir Pratap Sharma, Chairman, CEPC alongwith Members of the Committee of Administration was declared closed today in a Closing Ceremony by Shri Virendra Singh, Hon'ble Member of Parliament, Bhadohi.
Shri Ravindra Jaiswal, MLA, North City, Varanasi and Mr. Amit Kumar Singh, Dy. DGFT, Varanasi also
marked their presence in the Expo.
Shri Ajay Tamta, Hon'ble Minister of State for Textiles said, "Handmade Carpet Industry holds No. 1 Status in terms of value & quantity in export of handmade carpet. We are very glad that CEPC organizes this Expo twice every year to promote Indian weavers worldwide. Every year Expo generates huge amount of business. We assure our support to the carpet industry for their efforts for the betterment of small Manufacturers and artisans"
Shri Virendra Singh
, Hon'ble Member of Parliament, Bhadohi in his press briefing mentioned that Carpet weaving is a traditional heritage and identity of our country and there is a need to preserve the same. Weaving is not a full time job and our farmers are doing weaving work in their spare time to supplement their income. Present Government has taken various initiatives and lunched various schemes in this regard e.g. weavers pension, Mudra loan, Honorarium to the artisans under various Handicrafts Schemes and motivating the younger generation to have their own business. Shri Virendra Singh ji mentioned that in his recent visit to Ethopia in a delegation with Hon'ble President of India, he see the Indian Carpets but the same was imported from some other country instead of India and therefore, stressed on the need to develop new markets in which products of India are in use and demand but not exported directly.
Mr. Mahavir Pratap Sharma, Chairman, CEPC mentioned that this fair gives new heights to the industry and update the changing trends to the entrepreneurs. Such type of Expo on the one hand increase the coordination between the fellow exporters and on the other hand to analyze the world market requirements.
Mr. Mahavir Pratap Sharma, Chairman, CEPC informed that the main focus on this Expo was new countries and it's effect was seen in this Expo. Importers from USA visited the expo in large number which
In this expo exhibitors developed new designs and experimented new innovations. In this distinct Expo the participation of Women entrepreneurs has increased alongwith new exporters.
The Chairman of CEPC Mr. Mahavir Pratap Sharma, said according to the feedback received till now over 2859 enquiries and almost Rs. 337.24 Crore business generated from the 4 day Expo which shall be executed in the coming months. This expo will lead to opening up of new market opportunity for the industry and shall help small and Medium Indian carpet exporters in promoting their products to overseas countries. Eventually, this ongoing process, on a broader scale, is instrumental in projecting" Make in India Brand" in overseas markets. Government has set up a target of US $ 1592 million carpets & floor covering export for the fiscal year 2017- 2018, which he said shall be achieved. He further said India carpet expo is an ideal platform for International Carpet Buyers, Buying houses, buying Agents, Architects and Indian Carpet Manufacturers & Exporters to meet and establish long term business relationship. For the first time 60 countries participated in the expo, where buyers form countries like Afghanistan, Argentina, Australia, Austria, Belarus, Belgium, Brazil, Canada, Chile, China, Denmark, Egypt, France, Germany, Hong Kong, Iran, Israel, Italy, Japan, Kazakhstan, Kuwait, Lebanon, Mexico, Nepal, Netherlands, Norway, Poland, Romania, Russia, Saudi Arabia, Singapore, South Africa, Sweden, Switzerland, Thailand, Turkey, U.A.E., U.K., U.S.A. etc."
The Carpet Export Promotion Council showcased the products of more than 270 reputed small, medium and large manufacturer exporters from all over country viz U.P., Rajasthan, Haryana, Jammu and Kashmir, Punjab, Madhya Pradesh, Himachal Pradesh, Andhra Pradesh etc. 290 overseas carpet buyers visited the expo to generate business for this rural based cottage sector. It is the endeavor of the Council to provide exclusive business environment to the both carpet importers as well as manufacturer-exporters, which ultimately will benefit about 2 million weavers and artisans employed in this highly labour intensive rural based MSME cottage industry.
The Organizer of the fair i.e. CEPC
mentioned that in the current recessionary trend the presence of 290 Overseas Buyers from all over the world in India Carpet Expo establish the status of India Carpet Expo and demand of Indian Products in International Market.
Shri Mahavir Pratap Sharma, Chairman, CEPC expressed that this event will be beneficial to the Medium and small exporters who can't afford to display their products in overseas Exhibitions on the one hand and on the other hand show the capability of India in producing and supplying quality products in time. Chairman, Vice-Chairmen and other Members of the COA, CEPC expressed happiness and congratulated Shri Subodh Kumar Gupta, Acting Executive Director-cum-Secretary and all Staff Members of the Council for their strenuous and untiring efforts to make the fair a Grand Success.
Council announced the date of next India Carpet Expo from 8-11 March, 2018 in NSIC Exhibition Complex, Okhla Industrial Area, New Delhi.