Women Entrepreneurs Throng into 42nd India Carpet Expo 2022 with the versatile variety of Indian Handmade Carpets to attract International Buyers.
# Growth of women entrepreneurs seen in carpet expo 2022
# Buyers from USA and Europe turned in large numbers in expo 2022
# Overseas visitors praise CEPC and management for the best arrangements made for carpet expo 2022.
26th March, 2022 – New Delhi: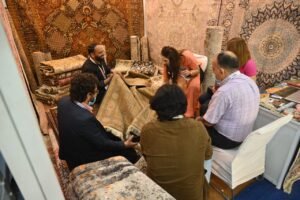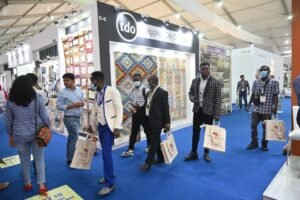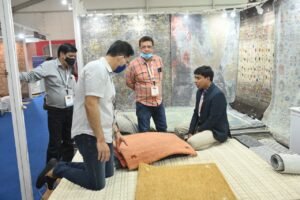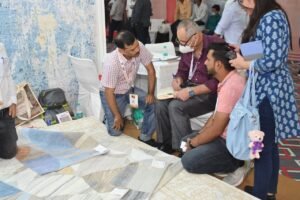 The second day of 42nd India Carpet Expo witnessed visitors and connoisseurs of handmade carpets at NSIC Exhibition Ground, Okhla, New Delhi. Expo has received an overwhelming response from 195 overseas buyers from across the world in the two days of the Expo with the presence of 230 Buying representatives. India Carpet Expo "Showcasing new Fall-winter collection, as per the buyers' requirements in terms of size, design, color, and quality which is grabbing the interest of the buyers.
India Carpet Expo is an endeavor of the CEPC to provide an exclusive business environment to both, carpet importers as well as manufacturers and exporters. As many as 195 members from all over India are participating in the expo. The India Carpet Expo is an ideal platform for international carpet buyers, buying houses, buying agents, architects and Indian carpet manufacturers and exporters to meet and establish long-term business relationships.
A buyer from the USA, said, "It's my third visit to India Carpet Expo. Here are new designs of carpets which one could not find in another part of the world. I am loving product diversification. Due to COVID19, we had to shut down our business for a couple of months. Here we are getting original products with higher quality at a reasonable price. It has been great to be here I thank Govt. of India and CPEC for organizing such a great show in professional manner."
Indian entrepreneur Jyoti Goyal, owner and entrepreneur, FORTUNE RUGS, Bikaner said, "I am the first-generation female to get into carpet manufacturing business which is solely male dominated. I believe that ICE 2022 will be helpful for me to make contacts and grow in this business and become an inspiration for other women."
Another Delhi-based visitor said, "I have been participating in the India Carpet Expo for last 13 years. This time I am looking forward to good opportunities from serious buyers across the globe here. From the very first day of this expo, I am interacting with potential foreign and Indian buyers."