DOMOTEX asia/CHINAFLOOR (20–22 March 2018): 20th Anniversary Post-Show Review
DOMOTEX asia/CHINAFLOOR's 20th Anniversary edition concluded March 22nd 2018, achieving new milestones in international visitor and exhibitor numbers and increased participation with VIP programs and onsite events.
Record International Exposure
The show exceeded anticipated registration numbers for international guests and exhibiting companies, making 2018 the largest turnout in DOMOTEX asia/CHINAFLOOR history. This year's edition grew to an impressive show space of 160,000 sqm and welcomed over 60,000 visitors from 104 countries. Attendees from South Korea, USA, Japan, India, and Malaysia made up the top-5 international countries. From the total number of 1,418 exhibitors, 281 came from outside of China.
"The greatness of this exhibition was visible this year in regards to participation", said Susanne Klaproth, Director of DOMOTEX Worldwide. "It's a good feeling to see our brand earning more international attention and respect. Especially in Asia, we foresee enormous potential for the platform, as construction and flooring projects will continue to increase in the region".
20th Anniversary Gala Dinner
Hundreds of industry guests attended the kick-off party of DOMOTEX asia/CHINAFLOOR. The event celebrated
the fair's 20th Anniversary with entertaining performances and honorable speeches, retellin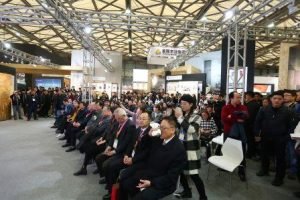 g stories and reminiscing on the fruitful years past. From thousands of companies that have exhibited at the fair through the years, these loyal international companies were recognized, as they have been exhibiting at DOMOTEX asia/CHINAFLOOR since the inaugural show in 1999: Aquafil, Associated Weavers, Balta Group, Beaulieu, Balsan, Louis Depoortere, MC Three, Oriental Weavers, and Unilin among others.
Nanxun – VIP Hosted Buyers Delegation
Wood flooring experts from Australia, Italy, Malaysia, New Zealand, Panama, and the United States were welcomed to China for an official business ceremony in Nanxun.  The goal of this program was to increase business collaboration between international buyers and wood flooring suppliers from the region. The delegates participated in personalized match-making meetings and factory tours before carrying on their conversations with Nanxun companies onsite at DOMOTEX asia/CHINAFLOOR.
"I had the pleasurable experience of being a part of the "2018 Nanxun – VIP Hosted Buyers Program with DOMOTEX asia/CHINAFLOOR" said Roberto Dos Ramos from Grupo Europisos S.A Panama. "I can assure that this was an event of excellence to the last detail in the meeting itinerary program with the suppliers, visits to their factories, and quality of enterprises with which we interacted with".
The International Carpet Delegation
Organized by COVER Magazine, 23 international buyers were led on a special tour through the Carpet W-Halls of the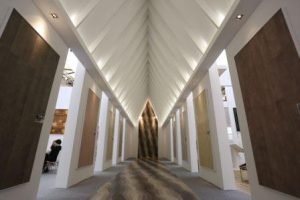 fair to increase onsite engagement and business collaboration with top Chinese carpet and rug exhibitors.
Larry Stone from The Scarab in Colorado, USA mentioned this about the program; "Being a member of the buyers' delegation with COVER Magazine gave me a unique opportunity to meet producers, learn in depth information, and discover new products that our company may have otherwise missed at such a large event."
The Successful Return of Luxury Brands
The second edition of the Luxury Brands Carpet Show was yet again a fan-favorite, especially as the pavilion grew in space to feature more of the industry's high end luxury rug designers from around the world. Curated by COVER Magazine, the pavilion was set up as a gallery style viewing area that naturally led visitors to each company's carpet art. In China, as the taste for extravagant interior design and flooring decoration intensifies, Luxury Brands will continue to increase in popularity, buyer potential, and excitement for the display's extravagant hand-made rug designs.
"Luxury Brands came out with a bang for its second year in Shanghai", exclaimed Erika Kurtz COO of New Moon Rugs. "We had a fabulous group of the world's premier rug brands working to increase the exposure of hand-made rugs in this up-and-coming market. This year also brought new and exciting buyers and it looks like the luxury handmade rug industry is beginning to gain momentum throughout mainland China".
 Creativity Boost @ InnovAction & Cadex
The 2018 InnovAction Flooring Campaign launched 400 products and materials from the Carpet, Resilient, and Wood sectors. Voting for the show's Top-10 Best Products took place two weeks before opening and was judged on style, quality, and durability by two of the industry's leading international media publications, Floor Covering Weekly and HALI. Onsite, InnovAction exhibitors were found within three specialty display areas, all of which designed by globally renowned architect, Kostas Chatzigiannis. Each pavilion gave the halls a different flare and introduced award-winning concepts, such as but not limited to the French Cobble Stone collection from Dalian Shumaike, GEMP heavy-duty, industrial flooring fromWidehigh Technology, and the dense fiber Flock Carpet from Jiashan Bohua.
The winners of the 2018 Top-10 Best Products at DOMOTEX asia/CHINAFLOOR were: Armstrong (China), Zhejiang, Kingdom Plastics Industry Co. Ltd., Audiga Building Material Jiangsu Co. Ltd., Widehigh Technology Co. Ltd., Jiangsu Kali Carpet Co. Ltd. Jiashan Bohau Flocking Fabric Co Ltd., Weihai Shanhua Carpet Co. Ltd., FG-Frym Industry Co. Ltd., Dalian Shumaike Floor Manufacturing Co. Ltd., and Dunhua City Ruifuyuan Wood Industry.
With the growing demand for in China for stylish interiors – the cadex interior design and architecture conferences quickly identified this market swell and rode its wave to a 50% increase in participation from 2017. Over 8,000 visitors attended the 4 conference sessions and 20 design salons which touched on topics such as creative workspaces.