CEPC has created a new website launch – Minister of Textiles,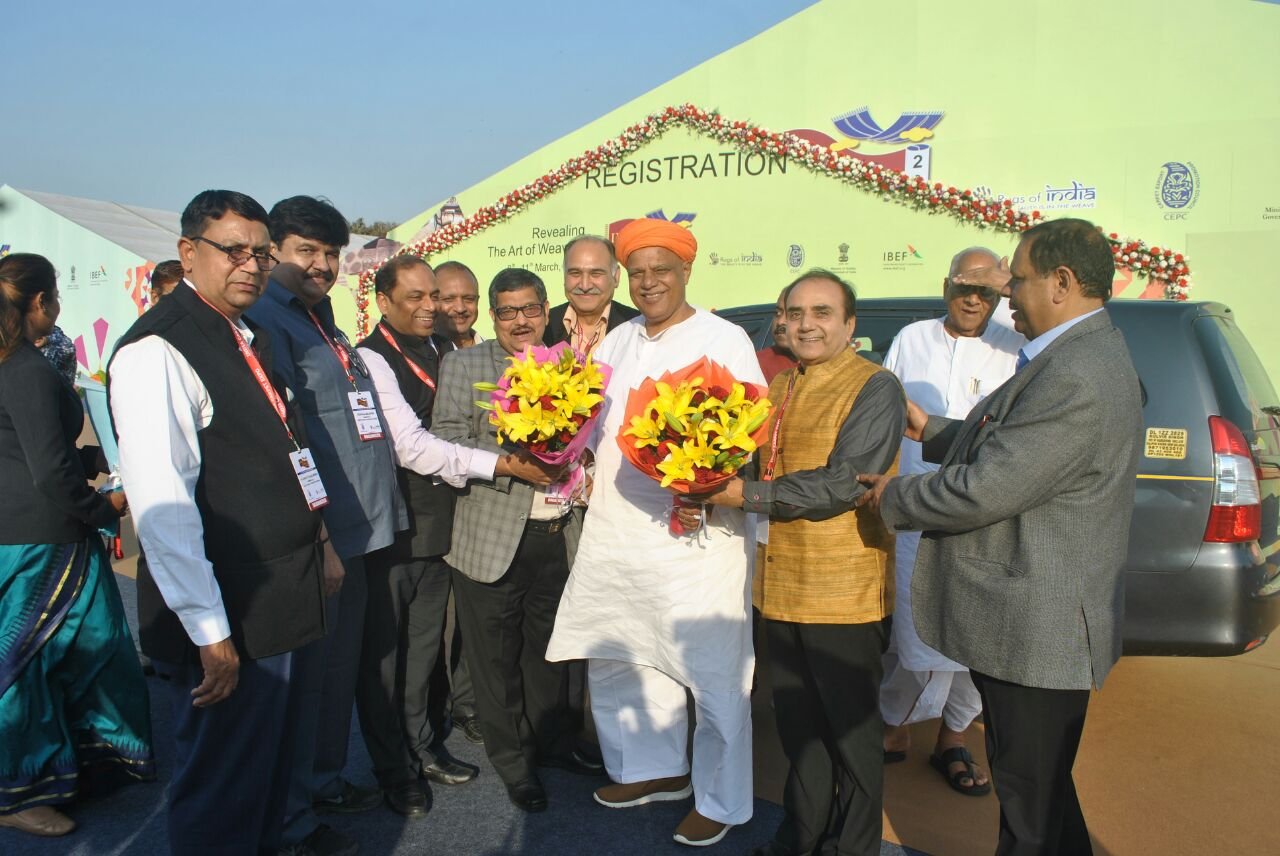 Smt. Smriti Zubin Irani, Hon'ble Minister of Textiles, Information and Broadcasting is launching the following initiatives of the Council in its  networking  Hotel Taj Mahal, New Delhi :
CHINA WAREHOUSE– India's export to China is over 13 US Million Dollars in 2016-17 and it is seeing growth and upheld demand consistently from many years. China is a focus country for this trade and Indian exporters want more access to various parts of China. Looking to this demand CEPC has initiated a project to open a warehouse in China. CEPC has registered a company in China and is looking for commercial space in China for a warehouse both in and outside the custom bonded areas. The intent is take this trade from 13 million to 40 million USD in the next two years.
NEW WEBSITE- CEPC has created a new website which will also contain separate B2B and B2C pages and online payment facilities for Membership and Exhibitions for the Members. B2C pages will focus on imparting knowledge about the history of Indian Handmade Carpets, their techniques and variety. Through these pages a consumer will develop the understanding about the differences in a machine made carpet and a Handmade Carpet. These pages will help the consumers to understand the rich history of Indian handmade Carpets and the current reach around the world. B2B pages will make internal functioning strong by making the communication and coordination with members faster.
CARBON FOOTPRINT– CEPC believes that their handmade carpet manufacturing processes are labour intensive and environmental friendly. CEPC has conducted an environment study – Carbon Foot Print (CFP) Study & Life Cycle Assessment (LCA) Study for its product to assess the environmental aspects and potential impacts associated with a products and its processes. This study can be used to reduce environmental impact and waste, reduce costs, focus product development, support marketing claims, improve product/corporate image and/or identify appropriate performance indicators. Further, doing this study creates common metrics that can be compared and shared across the member exporters or with their suppliers and partners.
WOMEN WEAVER'S TRAINING PROGRAM– 1956 weavers were trained under the Mega Cluster scheme of DC(H) where 96% Trainees were women. The project was completely run by CEPC and it was a great enabler in generating skilled workforce in state of Uttar Pradesh. This project helped the women artisans to be able to share the responsibility of livelihood for the family. CEPC intends to train more women in the next year with the support of the Ministry of Textiles and our target is to train another 10000 women weavers.
RUGS OF INDIA INITIATIVES – CEPC is also intending to launch a Rugs of India Label, wherein we will have all the benefits of the Kaleen label, but also add the element of Intellectual property and having one's own design, original designs, and not copy other designers or label's. This will take brand India and its credibility in the eyes of the world at a much higher level.
India Carpet Expo is one of the largest Handmade Carpet Fairs in Asia with a unique platform for the buyers to source the best handmade carpets, Rugs and other floor coverings under one roof. With the participation of over 260 exhibitors, it has become a popular destination worldwide on Handmade Carpets.
The Expo has received overwhelming response from 253  buyers from across the world in the two day of the Expo. India Carpet Expo "Showcasing new collection, as per the buyers' requirements in terms of size, design, colour and quality which is grabbing the interest of the buyers.
             Shri Virender Singh, Hon'ble Member of Parliament from Bhadohi and        Shri Ratnesh Kumar Jha, Addl. Development Commissioner (Handicrafts), Ministry of Textiles, Govt. of India  also visited India Carpet Expo and saw the arrangement and facilities available at fair ground.  They  also met the participating exhibitors and appreciated  the new developments created by the Indian Carpet Manufacturers. They also met the overseas buyers and appreciate the efforts made by Carpet Export Promotion Council in providing such a great infrastructure to the manufacturers from Varanasi-Bhadohi-Mirzapur belt for promoting Indian Carpets and helping the artisans and weavers of this area.
            Some of the leading and reputed buyers from US,  U.K., Brazil South Africa, & other European Countries who visited the fair very much impressed with the display of various Handmade Carpets and other floor coverings and arrangements made by the organizers.
It is the endeavor of the Council to provide exclusive business environment to the both carpet importers as well as manufacturer-exporters, which ultimately will benefit about 2 million weavers and artisans employed in this highly labour intensive rural based MSME cottage industry.
            Organizers are extremely happy with the results till today and hope that more buyer will come and make this Expo a very successful one.
he 35th  Edition of India Carpet Expo an exclusive trade fair for Handmade carpets and other floor-coverings, Organized by Carpet Export Promotion Council was inaugurated on 8th March, 2018  with lamp lighting by Hon'ble Minister of State for Textiles Shri Ajay Tamta in the  NSIC Exhibition Ground, Okhla, New Delhi in the gracious presence  of  Shri Shantmanu, IAS, Development Commissioner (Handicrafts). Mr. Mahavir Pratap Sharma, Chairman, CEPC alongwith Members of the Committee of Administration, Exhibitors and Media  were also present. The 4 day Expo will remain open for business till  11th March, 2018.
 The Expo is organized under the aegis of Govt. of India with an aim to promote the Cultural Heritage and weaving skills of Indian hand-made Carpets and other floor coverings amongst the visiting overseas carpet buyers.
Shri Ajay Tamta, Hon'ble Minister of State for Textiles in his press briefing mentioned that, "We are very glad that CEPC organizes this Expo twice every year to promote Indian weavers worldwide. Every year Expo  generates huge amount of business. We have everything handmade and hand weaved here, which is the major attraction to the foreign buyers."
            Mr. Mahavir Pratap Sharma, Chairman, CEPC said "India carpet expo is an ideal platform for International Carpet Buyers, Buying houses, buying Agents, Architects and Indian Carpet Manufacturers & Exporters to meet and establish long term business relationship. This exhibition is a crucial step towards taking Indian exports of Handmade carpet to much greater and newer heights. Mr. Sharma further added that there are tremendous business opportunities for participating manufacturers and exporters as various prominent buyers of Handmade Carpets from all over the world will be attending the show and orders worth over thousand crores are expected to be executed in near future. New fall-winter colors and designs are being showcased at the Carpet Expo.